NanoHub (2-port)
The NanoHub is a tiny (as far as I know the world's smallest) USB hub, specifically for hacking projects. It does not have regular USB ports, as just one USB port by itself is larger than this entire hub. Instead, the hub has two rows of solder eyes; one 4-contact row for the upstream USB port and one 8-contact for the two downstream ports. You can solder a USB cable or really any other type of cable to it. The contacts have a 1.5mm pitch, which makes them very convenient to solder to standard flattened USB cables or standard 1.27mm pitch ribbon cable. Revision 1 also has input and output ESD protection
NanoHub (4-port)
The Nanohub 4X is a slightly larger, 4-port version of the NanoHub. Instead of 4 eyelets per output, the outputs are split up, with all 8 D+/D- eyelets next to each other, and four ground/5V eyelets all clustered together. This was the best engineering solution to making the board as small as possible.
USB 3.0 NanoHub (2-port)
The USB 3.0 NanoHub has its own product page here
Technical specifications
NanoHub 2-port
rev. 0
NanoHub 2-port
rev. 1 and 2
NanoHub 4-port
Attribute
Value
Unit
Min.
Typ.
Max.
Min.
Typ.
Max.
Min.
Typ.
Max.
Width
11.6
0.457
15.7
0.618
mm
in
Length
12.4
0.488
13.2
0.520
mm
in
Height
1.48
0.058
1.52
0.060
1.77
0.070
1.48
0.058
1.52
0.060
1.77
0.070
1.48
0.058
1.52
0.060
1.77
0.070
mm typ. (max.)
in typ. (max.)
Weight
0.35
0.012
0.41
0.014
g
oz
USB chipset
SMSC USB2412
SMSC USB2422
SMSC USB2514
USB speed supported
12
480
Mbit/s
Input voltage (USB compliant)
4.75
5.00
5.25
4.75
5.00
5.25
4.75
5.00
5.25
V
Input voltage (hub functional)1
3.08
5.00
5.5
3.08
5.00
5.5
3.08
5.00
5.5
V
Input current2
Suspend
525
1100
475
1100
348
468
μA
Input current2
12Mbps, active
45
53
50
58
29
35
40
45
140
140
140
140
150
150
150
150
mA (1p)
mA (2p)
mA (3p)
mA (4p)
Input current2
480Mbps, active
60
85
65
90
47
70
58
89
150
160
170
175
170
275
290
305
mA (1p)
mA (2p)
mA (3p)
mA (4p)
Load current3
Both downstream ports combined
1.5
1.5
4.0
A
ESD protection
No
Yes
Yes
Note 1: Voltage at the input eyelet (pin 1). Consider the voltage drop over the input wiring when interpreting this value.
Note 2: Excludes downstream device current, data transfer at full speed in progress. Real average current consumption should be measured in the target application
Note 3: Note thermal images under "Thermal images"
Application information
The NanoHub is very straightforward in its application; it converts one upstream USB port into two downstream ports, to be used with any USB 1.1/2.0 compliant device. The hub does not support any charging standards. There is no power switching on the hub; the voltage present on the upstream port is directly connected to the output ports at all times.


Capacitance and power transients
A small amount of capacitance (approx. 15μF combined) is present on the input and output to suppress voltage transients, but this is not sufficient to filter very large transients. If you intend to use this hub with high power consumption devices that can exhibit large power transients (e.g. some types of USB flash drives, USB hard disks, etc.), consider adding additional capacitance on that particular output port.
ESD sensitivity
The NanoHub 2-port revision 1 and NanoHub 4-port have built-in ESD protection devices on all the data lines. However, for the few dozen revision 0 NanoHubs out in the wild, please take note of the following paragraph:

The USB data lines on the the upstream and downstream sides are very sensitive to ESD damage. Please handle the device according to ESD safe protocols, ensuring high air humidity and a static dissipative workbench. The most common cause of malfunction of the NanoHub (and earlier products I have designed with this and related hub controller chips) is ESD damage to the USB data lines. In other applications, I therefore design ESD clamping diodes on the data lines, but the NanoHub is not designed to attach devices that are user-facing and may experience large transients on the data lines. If you do intend to use this device in that manner, consider adding ESD dissipation devices. Suitable parts are Bourns CG0402MLC-05LG (Farnell 1828730) or NXP PRTR5V0U4D,125 (Farnell 1757869).
Mechanical drawing and pinout
Nanohub 2-port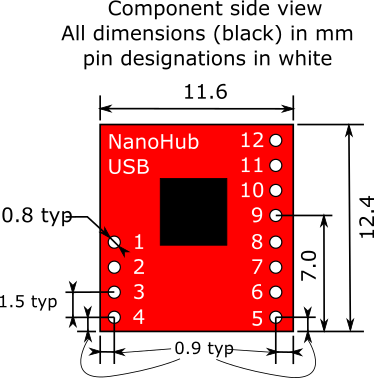 Upstream port
Downstream port 1
Downstream port 2
1
+Vin
5
+Vin
9
+Vin
2
D-
6
D-
10
D-
3
D+
7
D+
11
D+
4
GND
8
GND
12
GND
Nanohub 4-port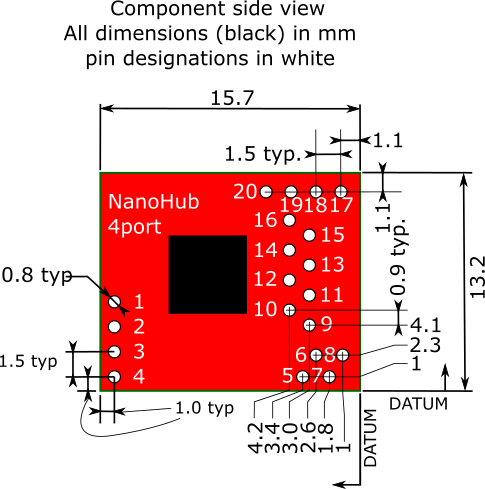 Upstream port
Ground
Downstream ports
5V
1
+Vin
5
GND
9
Port 1 D-
17
5V
2
D-
6
GND
10
Port 1 D+
18
5V
3
D+
7
GND
11
Port 2 D-
19
5V
4
GND
8
GND
12
Port 2 D+
20
5V
13
Port 3 D-
14
Port 3 D+
15
Port 4 D-
16
Port 4 D+
IMPORTANT NOTE: On the 2-port NanoHub revision 0, pin 5 is WRONGLY tagged as 'GND'. This is an error in the silkscreen. Please double-check your wiring with the above table and drawing before powering the device
Thermal images
Please note that at high current, the power traces on the board significantly heat up. In this thermal image, 1.5A is conducted from the input to the output on port 2. Note the temperature increase of approx. 43° C. Consider mounting the board on a thermally conductive surface when using it at high output current. This board is not designed for high-current applications.

The 4-port NanoHub has been designed for much higher current capability. Even at 4.0A, the board stays significantly cooler. The relatively thin input and output cables get hotter than the board itself.
Nanohub 2-port thermal images at 1.5A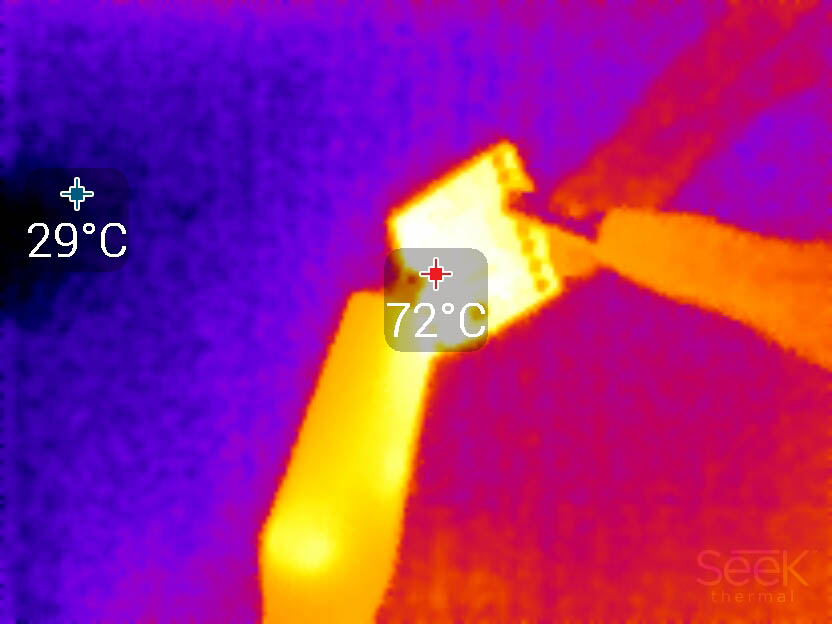 Nanohub 4-port thermal images at 4.0A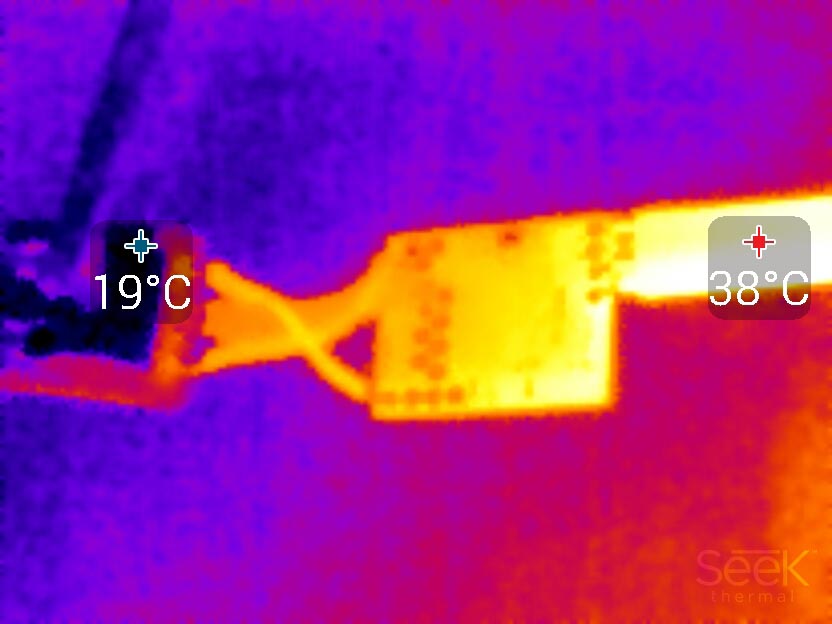 Where to buy
The NanoHub 2-port is sold through Tindie.com: NanoHub - tiny USB hub for hacking projects for $9.90/pc (volume discounts apply).
Important note: If you buy individual NanoHubs, you will receive revision 1. If you buy a panel of 24 bare boards, you will receive revision 2. This is because revision 2 is optimized for hand assembly and revision 1 for machine assembly.

The NanoHub 4-port is sold through Tindie.com: 4-port NanoHub - tiny USB hub for hacking projects for $14.90/pc (volume discounts apply).
Design files
The NanoHub is open source hardware. Download the design files here:

NanoHub 2-port, revision 2 NanoHub 2-port, revision 1 NanoHub 2-port, revision 0 NanoHub 4-port, revision 0